Don't Miss Out!
Never miss another Catalog of the Universal Mind release by signing up for our email list. &nbsp We don't sell your information and will only send you relevant messages.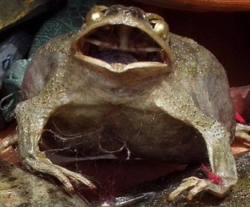 This isn't a book about "good" or "bad."
It's a book about results.
This form of magic has been used for centuries by those who want the upper hand in any endeavor they're involved with... and it is deadly effective.
For decades reports have filtered back to the west detailing various tribal wars in Africa where voodoo and traditional religions were a crucial element to victory.
The infamous general, "Butt Naked," Joshua Milton Blahyi, often fighting in the nude except for sneakers in battle, promised his loyal fighters supernatural protection in war.
During the magic-based Bambata Revolt of 1906, owners of white pigs and fowls were killed by occult-influenced rebels who were concerned evil spirits resided in the animals.
Even now, in the Delta, members of the Egbesu Cult, (the war god of the Ijaw People), battle the Nigerian Army, with rebel fighters believing they have immunity to bullets.
Kony's Secrets Are Just The Tip Of The Iceberg...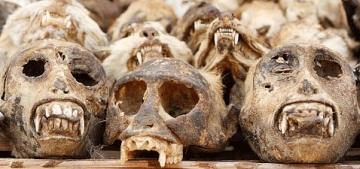 Joseph Kony has used his traditional magic to take on the world for years - and he keeps winning.

But that's not all you will discover in "Evil Rituals of the African Warlords."

This work contains magic taken from tribes all over the continent of Africa, much of it has never been made available to the English-speaking world before.

If you aren't afraid, and have an open mind, now you can learn how to:
Confuse an enemy's focus on you by assuming two identities (WARNING: this is NOT for everyone)
Step inside the fetish markets of Benin
Foretell the future using toads or a glass of water
The story of Witchdoctor Ali from Zanzibar - did birds really spring from his body after death?
Also Available In A Limited Print Edition!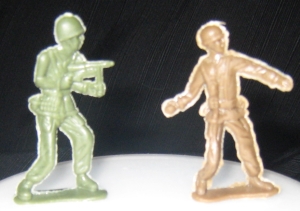 The standard digital PDF version may be purchased at the bottom of the page, but...
To celebrate our release of Evil Rituals of the African Warlords we're offering a limited edition run of 50 print copies.
Each copy is hand-numbered and signed by the author JHK and includes 3 specially charged toy soldiers for use with the rituals described on pages 17 and 20.
The digital PDF version of the book is included free with all copies of the print version - it will be emailed after you pay.
These are sure to be gone soon, so don't delay - order your limited edition booklet now.
We also include free shipping.
Unlock The Secrets Of This Book... If You Dare:
Summon an evil spirit to poison the mind of your enemy
Discover how to use mysticism and the occult to convince followers to take a bullet for you
Gain the protection of Tipu Maleng - the Holy Spirit
Use simple toys to foretell victory or defeat in any endeavor
Joks - how to summon these malicious spirits and avoid their wrath<
Use a simple, short prayer to obtain the respect of nature's elements - trees, insects, etc.
Secrets of Egbesu - the War God of the Ijaw people
Instant Digital PDF Download - $9